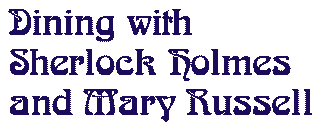 ---
---
"I admit that cooking is not my strong point, but I object to having my nose rubbed in the fact."
-Mary Russell, LETT
What's New
Aug. 9: Joined the Top 100 Food and Recipe Sites list. Click to vote for this site!
Aug. 5: Added OJER references to Meal Index. Thanks Abby!
July 29: I'm busy moving and writing my thesis-- anyone wanna help out with OJER?
June 7: Getting ready for O Jerusalem entries...
Feb. 2, 1999: Added hit counter.


---
---


http://www.evo.org/sherlock/russell/cookbook.html
Last Modified: Aug. 5, 1999