The Sherlock Holmes Atlas

Index
Alphabetical
By Geographic Location
By Literature Reference
List of Photos and Illustrations
---
Additional Information
Help/F.A.Q.
Acknowledgements
Abbreviations
References
Related Links
Send Feedback


A city of north-central India, pop. 188,300 [1901]. Located on the Ganges river, it is one of the oldest cities in India, and is also the location of the Taj Mahal. [JT]


---
REDH: The policeman Peter Jones mentions Holmes's usefulness in that business of the Sholto murder and the Agra treasure [see SIGN].


---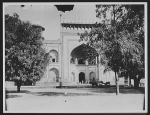 Click to view larger photo
Agra - gateway to garden court of the Taj Mahal

Notes: William Henry Jackson, photographer, 1895.

---


Click to view larger image
Agra "Jahara Baug"

Notes: Drawn by T. Boys after a sketch by R. Elliot, engraved by W. Cooke. Steel engraved print with professional hand colouring, published in 1834.
Source: Steve Bartrick Antique Prints & Maps
---


Click to view larger image
"The Supposed Gates of Somnauth, in the Arsenal of the Fort of Agra"

Notes: Large wood engraved illustration published in The Illustrated London News, 1872.
Source: Steve Bartrick Antique Prints & Maps
---
http://www.evo.org/sherlock/asia/agra.html
Last Modified: July 17, 1998