The Sherlock Holmes Atlas

Index
Alphabetical
By Geographic Location
By Literature Reference
List of Photos and Illustrations
---
Additional Information
Help/F.A.Q.
Acknowledgements
Abbreviations
References
Related Links
Send Feedback


Chief seaport on the western coast of India. Pop. 776,006 [1901]. [JT]


---
STUD: Watson arrived in India at Bombay; his regiment was already deep in Afghan territory.


---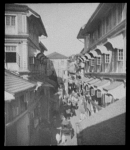 Click to view larger photo
Bombay - street scene in native quarter
Notes: William Henry Jackson, photographer, 1895.

---
http://www.evo.org/sherlock/asia/bombay.html
Last Modified: Feb. 15, 1998