The Sherlock Holmes Atlas

Index
Alphabetical
By Geographic Location
By Literature Reference
List of Photos and Illustrations
---
Additional Information
Help/F.A.Q.
Acknowledgements
Abbreviations
References
Related Links
Feedback


Town in New Zealand, pop. 34,216 [1901]. [JT]


---
CASE: Miss Mary Sutherland's income was left to her by her uncle Ned in Auckland.


---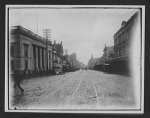 Click to view larger photo Aukland [sic] - downtown street, Union bank of Australia at left

Notes: William Henry Jackson, photographer, 1895.

---
http://www.evo.org/sherlock/australia/auckland.html
Last Modified: Sept. 27, 1997