The Sherlock Holmes Atlas

Index
Alphabetical
By Geographic Location
By Literature Reference
List of Photos and Illustrations
---
Additional Information
Help/F.A.Q.
Acknowledgements
Abbreviations
References
Related Links
Feedback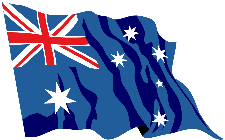 Smallest of the seven continents, pop. 3,600,000 [1901]. Since 1901 is has been a federated commonwealth, comprised of its six former British colonies: Western Australia, South Australia, Queensland, New South Wales, Victoria, and Tasmania. [JT]


---
BOSC: Where Mr. John Turner made his fortune and met Mr. Charles McCarthy.

---
EMPT: The Hon. Robert Adair's father was governor of one of the Australian colonies.

---
GLOR: The Gloria Scott was bound for Australia. And, was eventually where its survivors were dropped off.


---
ABBE: Lady Brackenstall and her maid left Australia 18 months prior to the death of Sir Eustace.


---
http://www.evo.org/sherlock/australia/australia.html
Last Modified: May 18, 1998