The Sherlock Holmes Atlas

Index
Alphabetical
By Geographic Location
By Literature Reference
List of Photos and Illustrations
---
Additional Information
Help/F.A.Q.
Acknowledgements
Abbreviations
References
Related Links
Feedback


Capital of the Victoria colony in Australia, pop. 68,374 [1901]. [JT]


---
BOSC: "One day a gold convoy came down from Ballarat to Melbourne, and we lay in wait for it and attacked it."


---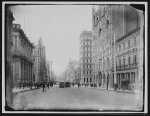 Click to view larger photo Victoria-Collins Street in Melbourne

Notes: William Henry Jackson, photographer; 1895.

---
http://www.evo.org/sherlock/australia/melbourne.html
Last Modified: August 17, 1997