The Sherlock Holmes Atlas

Index
Alphabetical
By Geographic Location
By Literature Reference
List of Photos and Illustrations
---
Additional Information
Help/F.A.Q.
Acknowledgements
Abbreviations
References
Related Links
Feedback


Capital of the New South Wales colony and primary naval station in Australia, pop. 112,137 [1901]. [JT]


---
GLOR: The Hotspur landed the survivors from the Gloria Scott at Sydney.

James Armitage: " ...where Evans and I changed our names and made our way to the diggings, where, among the crowds who were gathered from all nations, we had no difficulty in losing our former identities. "


---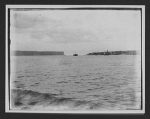 Click to view larger photo Ship silhouetted in Sydney(?) harbor entrance

Notes: William Henry Jackson, photographer; 1895.

---
http://www.evo.org/sherlock/australia/sydney.html
Last Modified: August 17, 1997