The Sherlock Holmes Atlas

Index
Alphabetical
By Geographic Location
By Literature Reference
List of Photos and Illustrations
---
Additional Information
Help/F.A.Q.
Acknowledgements
Abbreviations
References
Related Links
Send Feedback


A town in Surrey, pop. 6,124 [1901]. [JT]


---
SOLI: Chiltern Grange was near Farnham, on the borders of Surrey. Miss Smith would take the 12:22 train from Farnham Station to London to visit her mother.


---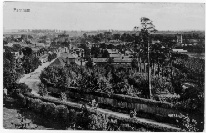 Click to view larger photograph.


---
http://www.evo.org/sherlock/britain/farnham.html
Last Modified: Oct. 1, 1997