The Sherlock Holmes Atlas

Index
Alphabetical
By Geographic Location
By Literature Reference
List of Photos and Illustrations
---
Additional Information
Help/F.A.Q.
Acknowledgements
Abbreviations
References
Related Links
Send Feedback


Historic city in Hampshire, pop. 20,929 [1901]. [JT]


---
COPP: Jephro Rucastle's house, The Copper Beeches, was located in Hampshire, "five miles on the far side of Winchester."
Holmes and Watson met Violet Hunter at the Black Swan Inn, "an inn of repute in teh High Street, at no distance from the station." [Baedeker's Guide to Britain (1897 edition) also recommends the Black Swan.]


---
SILV: The Wessex Cup race was held here.


---
THOR: The murder trial was sent to the Assizes at Winchester. Grace Dunbar was also jailed here.


---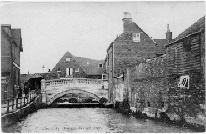 Click to view larger photograph.


---
http://www.evo.org/sherlock/britain/winchester.html
Last Modified: Oct. 11, 1998