<!******** Document starts here ************>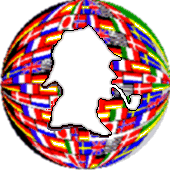 SHERLOCK HOLMES INTERNATIONAL
Français - English - Deutsch - Español - Italiano- Dansk - Japanese
What is Sherlock Holmes International?



Sherlock Holmes in ENGLISH
(many thanks to Jenny Newbury, who maintains this English version)


Table of Contents
Websites for Sherlock
Major Sherlockian Resources, Useful Information, Specialized Sites, Quizzes, Web Rings

Multimedia Holmes
Art, Graphics, Photos, and Sounds, On the Computer, In TV and Cinema

Sherlock and the Written Word
The Canon Online, Canon Word Searches, Sir Arthur Conan Doyle, Books, Journals, Publishers, Essays and Articles, Pastiches and Fan Fiction

Sherlock's Fans
Societies and Clubs, Internet Mailing Lists, Festivals and Conferences, Individuals' Holmes Pages

Sherlockian Places to Visit
Museums, Libraries, Restaurants, Pubs, Inns, Hotels

Sherlockian Items for Sale
Online Auctions, Videos, Audio Recordings, Books, Computer Software, Games and Chess pieces, Figurines and Artwork, Clothing, Pipes, and Victorian Dress-Up, etc.

The Franco-Midland Hardware Company - Established in 1989 to provide activities for those living in the Midlands region of England. Now one of the most active Holmesian groups in the world, with an international membership.

The Head-Llamas - branch of the Franco Midland Hardware Company, specializing in the natural history of the Canon.

The Sherlock Holmes Society of London - Literary and social society with a world-wide membership, founded in 1951.
In the USA:
In Australia:
Conferences, Festivals, and Events
RETURN TO TABLE OF CONTENTS

RETURN TO TABLE OF CONTENTS

Alphabetical Listing
(Bold indicates pages with especially good sherlockian content and/or design, IMHO)
Aspin, Mark: Sherlock Holmes Page - fanpage with some different pictures
Bayne, Tom: Gaslight on the Web - Commentary on Sherlock Holmes in all of his many incarnations, plus art and photos!
Buckley, Peter: The Seventeen Steps - nice site with a little bit of everything
Cohen, Erez: Erez's SH page - about ACD, movies, pictures, sounds, quotes, links
Coules, Bert: Homepage for the writer of BBC's Sherlockian radio dramas
"Crescent": Sherlock Holmes - Includes tributes to Jeremy Brett, and Doyle as well as links and exerpts from a novel-in-progress
Derango, Tirk: Sherlock Holmes working on being the internets best resource for the famous detective; currently includes an online Canon.
Dobson, Andrew: Baker Street Irregulars - Links, pictures, etc. (not The BSI)
Rogers, Marakay: Sherlock 101 - How to become a Sherlockian
Elsom, Helen: Sherlock Holmes Links - includes her parodies and pastiches
Flemen, Rob: Rob's Holmespage - fan page, with an emphasis on pipes and cigars
Flock?, Maria: Sherlock Holmes In My Life - A different sort of fan page, with commentary arranged according to story and some interesting photos
Frankland, M.: Lafter Hall: With special emphasis on A Scandal in Bohemia and Dr. Watson.
Franklin, Sheryl: 221b Baker Street - Sherlockian superlatives, links, and a collection of sights-n-sounds
Gort, Tom: Sherlock Holmes - links to stories, cute Sherlock graphic
Holemann, Herbert P. - Sherlock Holmes Consulting Detective
Holmes, Sherlock S.: 221b Baker Street Office - Apparently that's his real name. Site contains loads of links, quotes, a chat room, and more...
Honaker, Neil Travis: The Bluegrass Sherlock Holmes Page - He's looking for fellow enthusiasts in the Lexington, KY area
Klinger, Leslie: Under the Jackknife... The Sherlockian Mantel - personal info and sherlockian links
Kohlin, Ron: All things Sherlockian - nice layout of links and graphics
The Lady of Shalott- Specializing in Sherlockian Fan-fiction
Lavazzi, Chuck: The Doge of St. Louis - the maintainer of the Holmes FAQ, also includes some original Sherlockian papers.
Lowther, Richard: 221b Baker Street.com - "The home of Sherlock Holmes on the web", a site currently under construction by Richard Lowther, Karl Newton, and Keith Brint
Mikhlin, Irene: Sherlock Holmes, the consulting detective - some personal commentary with a very large picture
Moore, David: The Valley of Fear - Includes basics on Sherlock Holmes and Doyle, some photos from Granada studios, London, and the Sherlock Holmes Museum, as well as describing interests in Holmes memorabilia
Moskowitz, Les: The Sherlockian Connection - Lots of links loosely organized according to quality of content, from the moderator of the Hounds of the Internet
Pack, Dave: Holmes' Place A fan page with a funky design
Pai, Shraddha: Oh, you don't know Sherlock Holmes yet! - A very pleasant and unique fan page: includes a dedication to Sir Arthur Conan Doyle and quite a lot of content, such as a Sherlockian FAQ, exerpts from the Hounds of the Internet postings, and lots more.
"Porlock, Fred": Yoxley Old Place - A Sherlockian BBS with lots of content, that is constantly being updated.
Preacher, Kristopher: Foxhound's Holmes Page - With articles, essays and pastiches (and some clever graphics)
Redmond, Chris: A Sherlockian Holmepage - this is THE page
Rich, Craig: Craig's Mystery Page - a fan page with links
Rogers, Jim: Sherlock Holmes 221b Baker St. - with an interactive adventure
Rorhman, Dave: The Diabolical Moriarty Page - Nice design and a great trivia quiz.
"Miss Roylott:" My Sherlock Holmes tin box - Links with commentary, "Top 10 Reasons why Watson loved being with Holmes," Acrostic
Shackleford, Lee - A freelance artist with a nifty homepage and diverse Sherlockian interests. Check out the great Holmesian cartoons
Sherman, Michael: 221b Baker Street - Text of the canon, audio clips, illustrations & photos, nice design...
Sielke, John - Links and info on the Bakerstreet E-regulars listserv
"Sigerson, Sherlockia Vernet" - Out of the Clue, little content at the moment, will contain reviews
Soucek, David: Camden House - Sherlockian content in English, German, and Czech. Beautiful design and content
Stampe, Mia: I hear of Sherlock everywhere... - articles, graphics, Top 10 ways to recognize that you are a Sherlockian...
Thornton, Shari: The Greatest Detective of All Time - with a nice photo gallery of Holmeses and Watsons
?: Sherlock Holmes - links and some commentary
?: Shadows - The Pondicherry Lodge site promises more content in the future
?, Brendan: Sherlockiana - Right now, this is just a few links to other pages
RETURN TO TABLE OF CONTENTS
Sherlock Holmes International is the forum for the viewpoints of Sherlock Holmes's fans wordwide.
I don't want to keep this wonderful url adress to myself: www.sherlock-holmes.org. I would like for it to be valuable to all "Holmesians," whatever their language. It's why you can write me (billy@sherlock.fr.eu.org) (only in French or in English, please) in order to add a Holmesian site which is not listed on this page. (Don't forget to mention which international page the new address is for!). Also, you can write to Jenny Newbury, who maintains this English version.
If a language is not a part of Sherlock Holmes International, you can also ask me to create a new Welcome Page in this language, but please help with the translation! ;-)
Also, you can visit my web site about Sherlock Holmes "Les Dix Sept Marches". It is in French, but some pages are also translated into other languages.
---
Sherlock Holmes International is neither a commerical site nor an association. It's an independent website based on the principle of free-willed, international aid to the glory of the tenants of 221B Baker Street.
THE GAME IS AFOOT!
<!******** Begin SH Top Sites Code ************>
<!******** End SH Top Sites Code ************> <!******** Begin Pagecount Code ************>

<!******** End Pagecount Code ************> <!******** Document ends here ************>