The Sherlock Holmes Atlas

Index
Alphabetically
By Geographic Location
By Literature Reference
List of Photos and Illustrations
---
Additional Information
Help/F.A.Q.
Acknowledgements
Abbreviations
References
Related Links
Send Feedback


The heart of London's West End, pop. 183,011. Legally, since 1900, a distinct municipality within the administrative county of London. [Tr]


---
SOLI: Cyril Morton became the senior partner of Morton and Kennedy, "the famous Westminster electricians."


---
BRUC: The spy, Aldoph Meyer, lived at 13 Great George Street, Westminster.


---
SECO: Eduardo Lucas's home on Godolphin street was in Westminster, between the river and the Abbey, almost in the shadow of the great Tower of the Houses of Parliament.


---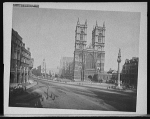 Click to view larger photo
Westminster Abbey

Notes: CREATED/PUBLISHED c[between 1910 and 1920]; Detroit Publishing Co. no. 073196.
---
http://www.evo.org/sherlock/london/westminster.html
Last Modified: Nov. 7, 1998