The Sherlock Holmes Atlas

Index
Alphabetically
By Geographic Location
By Literature Reference
List of Photos and Illustrations
---
Additional Information
Help/F.A.Q.
Acknowledgements
Abbreviations
References
Related Links
Send Feedback


Famous church in London. Located near the Thames and the Houses of Parliament, and location for the coronation of British monarchs. Also the burial place for many monarchs and noted military heroes, statesmen, and poets.


---
SECO: Eduardo Lucas's home on Godolphin street was in Westminster, between the river and the Abbey, almost in the shadow of the great Tower of the Houses of Parliament.


---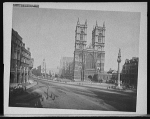 Click to view larger photo
Westminster Abbey

Notes: CREATED/PUBLISHED c[between 1910 and 1920]; Detroit Publishing Co. no. 073196.
---
http://www.evo.org/sherlock/london/westminster_abbey.html
Last Modified: Nov. 8, 1998