The Sherlock Holmes Atlas

Index
Alphabetical
By Geographic Location
By Literature Reference
List of Photos and Illustrations
---
Additional Information
Help/F.A.Q.
Acknowledgements
Abbreviations
References
Related Links
Send Feedback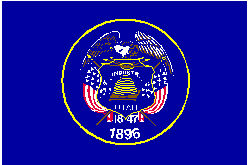 Territory in the western USA settled by the Mormons in 1847. Admitted to the union in 1896. Pop. 276,749 [1900]. [JT]


---
STUD: The Mormons settle in Utah territory and establish Salt Lake City; the Ferriers settled with them.

Narrator: "There was not one who did not sink upon his knees in heartfelt prayer when they saw the broad falley of Utah bathed in the sunlight beneath them, and learned from the lips of their leader that this was the promised land, and that these vergin acres were to be theirs for evermore."



---
http://www.evo.org/sherlock/n_america/utah.html
Last Modified: Feb. 18, 1998