The Sherlock Holmes Atlas

Index
Alphabetical
By Geographic Location
By Literature Reference
List of Photos and Illustrations
---
Additional Information
Help/F.A.Q.
Acknowledgements
Abbreviations
References
Related Links
Send Feedback


` Canal connecting the Medditeranean Sea with the Red Sea.


---
ABBE: The ship Rock of Gibraltar was south of the Suez Canal on her way to Australia at the time of Sir Eustace's death.


---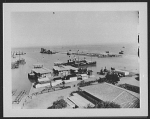 Click to view larger photo
On the Suez Canal

Notes: Jackson, William Henry, 1843-1942, photographer; CREATED/PUBLISHED 1894 Dec.; Title devised by cataloger. Former title: On the Isthmus of the Nile.; Published as halftone in Harper's Weekly, 1895.
---
http://www.evo.org/sherlock/africa/suez_canal.html
Last Modified: Jan. 11, 1999