The Sherlock Holmes Atlas

Index
By Geographic Location
By Literature Reference
List of Photos and Illustrations
---
Additional Information
Help/F.A.Q.
Acknowledgements
Abbreviations
References
Related Links
Mail Suggestions


Famous series of falls of the River Reichenbach, a tributary of the Aar, in central Switzerland. The lower fall is a ten minute walk from Meiringen, and the impressive central or Kessel Fall is 15 minutes higher. A walk of thirty minutes reaches the upper falls; a narrow footpath leads to a footbridge which gives a view of the falls from above. [JT]


---
FINA: Scene of the final meeting between Holmes and Moriarty.


---
EMPT: Holmes: "I stood up and examined the rocky wall behind me. In your picturesque account of the matter, which I read with great interest some months later, you assert that the wall was sheer. That was not literally true. A few small footholds presented themselves, and there was some indication of a ledge. The cliff is so high taht to climb it all was an obvious impossibility, and it was equally impossible to make my way along the wet path without leaving some tracks. ... On the whole, then, it was best that I should risk the climb. It was not a pleasnat business, Watson. The fall roared beneath me. I am not a fanciful person, but I give you my word that I seemed to hear Moriarty's voice screaming at me out of the abyss."
---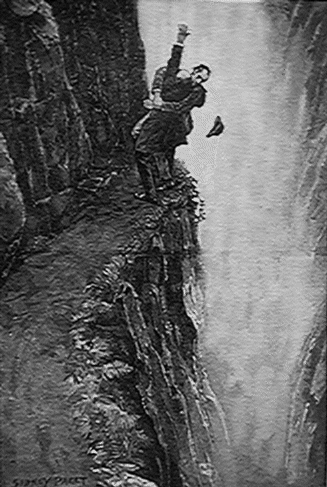 Holmes and Moriarty at the Reichenbach Falls; Sydney Paget illustration.


---
http://www.evo.org/sherlock/europe/reichenbach_falls.html
Last Modified: Sept. 27, 1997