The Sherlock Holmes Atlas

Index
Alphabetically
By Geographic Location
By Literature Reference
List of Photos and Illustrations
---
Additional Information
Help/F.A.Q.
Acknowledgements
Abbreviations
References
Related Links
Send Feedback


a bridge spanning the Thames between Westminster and Lambeth, opened in 1817.


---
FIVE: John Openshaw met his end at Waterloo Bridge.

Newspaper:"Between nine and ten last night Police-Constable Cook of the H Division, on duty near Waterloo Bridge, heard a cry for help and a slpash in teh water. The night, however, was extremely dark and stormy, so that, in spite of the help of several passers-by, it was quite impossible to effect a rescue. The alarm, however, was given, and, by the aid of the water-police, the body was eventually recovered."
---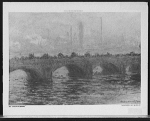 Click to view larger photo
Waterloo bridge; Monet, Claude, 1840-1926, artist.

Notes: CREATED/PUBLISHED c[between 1900 and 1912]; Date based on Detroit, Thistle Publications (1912).; Photograph of a painting signed "Claude Monet" at Worcester Art Museum. Detroit Publishing Co. no. M 57.
---
http://www.evo.org/sherlock/london/waterloo_bridge.html
Last Modified: Oct. 12, 1998