The Sherlock Holmes Atlas

Index
Alphabetically
By Geographic Location
By Literature Reference
List of Photos and Illustrations
---
Additional Information
Help/F.A.Q.
Acknowledgements
Abbreviations
References
Related Links
Send Feedback


Short street in Westminster and location of many goverment offices.


---
GREE: Mycroft lodged in Pall Mall, and walked 'round the corner into Whitehall every morning and back every evening.


---
BRUC: Mycroft's offices were in Whitehall.

Holmes:"Mycroft has his rails and he runs on them. His Pall Mall lodgings, the Diogenes Club, Whitehall-- that is his cycle. Once, and only once, he has been here. What upheaval can possibly have derailed him?"


---
MAZA: Presumably the Mazarin diamond was stolen from somewhere on Whitehall.

Holmes [to Sylvius]: "I have the cabman who took you to Whitehall and the cabman who brought you away."
---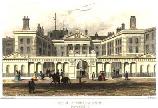 Click to view larger image
The Admiralty, Whitehall

Notes: drawn by T. Shepherd, engraved by H. Wallis, 1848. Source: Steve Bartrick Antique Prints & Maps
---
http://www.evo.org/sherlock/london/whitehall.html
Last Modified: Feb. 28, 1998