The Sherlock Holmes Atlas

Index
Alphabetical
By Geographic Location
By Literature Reference
List of Photos and Illustrations
---
Additional Information
Help/F.A.Q.
Acknowledgements
Abbreviations
References
Related Links
Send Feedback


Famous waterfall of the Niagara River, on the border between the United States and Canada.


---
STUD: In Holmes's article, "The Book of Life," he wrote, "From a drop of water a logician could infer the possibility of an Atlantic or a Niagara without having seen or heard of one or the other."


---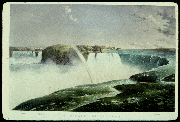 Click to view larger photo
The falls of Niagara-- From the Canada Side

Notes: Painted by B. Hess; Currier and Ives, c1868.

---
http://www.evo.org/sherlock/n_america/niagara.html
Last Modified: Feb. 16, 1998