The Sherlock Holmes Atlas

Index
Alphabetical
By Geographic Location
By Literature Reference
List of Photos and Illustrations
---
Additional Information
Help/F.A.Q.
Acknowledgements
Abbreviations
References
Related Links
Send Feedback


Mountain range extending from Canada into New Mexico.


---
STUD: Narrator: "From the shores of the Mississippi to the western slopes of the Rocky Mountains, they [the Mormons] had struggled on with a constancy almost unparalleled in history."


---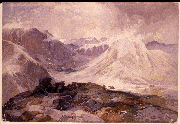 Click to view larger photo
The Musquito Trail, Rocky Mountains of Colorado

Notes: L. Prang and Co., Chromolithograph; c1875, Thomas Moran, artist.

---
http://www.evo.org/sherlock/n_america/rocky_mountains.html
Last Modified: Feb. 18, 1998