The Sherlock Holmes Atlas

Index
Alphabetical
By Geographic Location
By Literature Reference
List of Photos and Illustrations
---
Additional Information
Help/F.A.Q.
Acknowledgements
Abbreviations
References
Related Links
Send Feedback


A city in north-eastern Hampshire, pop. 30,974 [1901]; site of the largest permanent military camp in Britain, accomodating as many as 20,000 officers and men at one time. [JT]


---
COPP: Holmes and Watson passed by Aldershot on the train ride to Winchester.

Watson: "All over the contry-side, away to the rolling hills around Aldershot, the little red and grey roofs of the farm-steadings peeped out from amidst the light green of the new foliage. 'Are they not fresh and beautiful?' I cried, with all the enthusiasm of a man fresh from the fogs of Baker Street."


---
CROO: Holmes investigated the death of Col. Barclay here.


---
CROO: Mrs. Barclay volunteered at the fictional Watt Street Chapel (aka Watt Street Mission) in Aldershot. She first meets the crooked man on Hudson Street (fictional) on her way home after working at the chapel.


---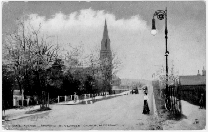 Click to view larger photograph.


---
http://www.evo.org/sherlock/britain/aldershot.html
Last Modified: Feb. 15, 1998