The Sherlock Holmes Atlas

Index
Alphabetical
By Geographic Location
By Literature Reference
List of Photos and Illustrations
---
Additional Information
Help/F.A.Q.
Acknowledgements
Abbreviations
References
Related Links
Send Feedback


City and economic center in the Netherlands, pop. 510,850 in 1900. [JT]


---
MAZA: Count Slyvius hoped to get the Mazarin stone cut in Amsterdam.

Sylvius [to Merton]:"The stone is here in my secret pocket. I take no chances leaving it about. It can be out of England to-night and cut into four pieces in Amsterdam before Sunday."


---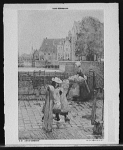 Click to view larger photo "A Bit of Amsterdam"

Notes: Hans Herrmann, artist; c1900 - 1920; photograph of painting.

---
http://www.evo.org/sherlock/europe/amsterdam.html
Last Modified: Feb. 15, 1998